As the co-founder and editor of Los Gatos Magazine in 2013 and 2014, I interviewed a number of local residents who were known outside the community as well. One of them was NBC Sports golf announcer and former touring pro Roger Maltbie. We met at a local coffee shop in May 2014. This is my article for the June issue of the magazine.
---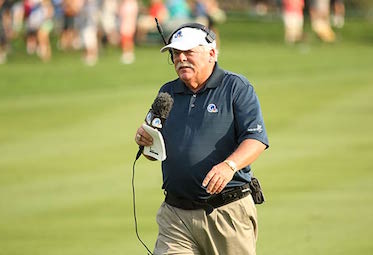 This Father's Day you'll find Roger Maltbie right where the broadcaster and former golf pro has been virtually every Father's Day since 1992 – covering final round play at the U.S. Open golf tournament for NBC television.
Meanwhile, at The Villages in San Jose Maltbie's 90-year-old father, Lin, will be among millions tuned in to hear Roger's astute commentary from the fairways and greens of Pinehurst No. 2 in North Carolina on June 15.
"My dad is terrific," says Maltbie, a touring pro from 1975 to 1996 who won five times over his career and has lived in Los Gatos since 1977. "He still plays a lot of golf. He's already shot his age 45 times."
Now in his 22nd year with NBC, Roger Maltbie will report from 25 tournaments for the network in 2014, his most ever, which can mean long stretches on the road.
During a recent break from his TV duties, Maltbie talked about growing up in the South Bay, his golf and TV careers, fathers and families.
"I just did six weeks straight but now I've got a month off before I leave for the Players (Championship) in Florida," Maltbie said, looking relaxed and comfortable as he eased into a worn leather club chair at Le Boulanger on West Main Street.
Despite the spring chill and intermittent rain, the popular announcer they call the "People's Pro" and the "Course Whisperer" wore only a U.S. Amateur T-Shirt, a yellow Scottsdale TPC cap, khaki shorts and deck shoes without socks.
"I don't do a whole lot when I'm home on breaks, but I see my dad as often as I can, given my travel schedule," Maltbie says.
Roger tells a story about his father that offers insight to both of them. It happened during the 1987 Masters in Augusta, Georgia, where Roger shared the tournament lead after three rounds.
"I woke up that Sunday feeling like a caged tiger," he says. "It's the Masters. You're gonna feel nerves.
"My wife said, 'Why don't you call your dad?' My parents didn't travel to Augusta that year. I called, and my dad's last words to me that morning were, 'Remember, son, no matter what you shoot today, your mother and I couldn't be more proud of you.'
"I said, 'Thanks, Pop.' I put down the phone and cried for 10 minutes, just bawled my eyes out. Then I felt better. I said, 'Let's go.' I went out and shot 74."
Maltbie missed a playoff by one stroke and Larry Mize was the eventual winner. "I know it's true that the Masters doesn't start until the back nine Sunday," he says, "because if I'd have shot par coming in, then I win. I had my chances, but it wasn't nerves."
Six-time Masters champion Jack Nicklaus, who had claimed what would be his final victory at Augusta the previous year, finished three strokes behind Maltbie, but you won't hear Roger crowing about it.
"My father was a pharmacist and Jack Nicklaus' father was a pharmacist," Maltbie says. "And that's where all comparisons end."
Before his civilian life, lieutenant Archie Franklin "Lin" Maltbie was a World War II Army Air Corps fighter pilot with the legendary "Hell Hawks" squadron battling the German Luftwaffe over Europe.
He flew 98 missions in P-47 Thunderbolts, including two sorties over Normandy on D-Day. On August 18, 1944, Maltbie ejected over France when his plane was damaged in a dogfight with a Messerschmitt that he shot down.
Germans on the ground fired on Maltbie as he descended, leaving bullet holes in his parachute. He landed in a forest, eluded an enemy patrol and survived with the help of the French Underground.
Just 15 days before, while in London, Lt. Maltbie met Joan Muirie-Dawson, a lovely Scottish-born nurse. He proposed a week later. They were married December 4, 1944 and soon returned to California.
"Mom never liked the name Archie," says Roger, "so she called him by his shortened his middle name, Lin, which is also my middle name.
 "Dad never talked about the war until recently," Roger says. "Then KQED did a documentary about him two years ago and he told the story."
The couple lived briefly in Modesto and had two sons, John (now the county manager of San Mateo County) and Roger, before settling in San Jose.
"Dad purchased a pharmacy on 14th Street across from San Jose Hospital and a block from San Jose Country Club," Roger recalls. "My brother and I found balls that came over the fence at the golf course. We scrounged up a couple of clubs and we would sneak onto the course late in the day. I was 8.
"Eddie Duino, the legendary club pro at San Jose, kept catching us and throwing us off. One day he drove us home and told our parents we weren't allowed on the course but that if we really wanted to play golf he would give us odd jobs and help us learn, which he did. Eddie did a lot for me."
Roger says his father wasn't much of a golfer then, but he joined the country club so his sons would have more access to the game.
"I was a little shaver," Roger recalls, "and my dad said to me, 'You're too young now, but someday you're going to want to play golf with me.'
"I played all sports in school – basketball, baseball, football," says Roger, "but I got pretty good at golf and eventually I dropped the other sports."
Lin Maltbie later operated another pharmacy in Milpitas before returning to a Payless pharmacy in San Jose, where he spent the last 20 years of his career before retiring.
Joan Maltbie passed away in 2011, four days after her 88th birthday. She and Lin were married 66 years.
"You always knew where my dad was coming from," Maltbie says. "There were no shades of gray. He was either right or wrong. One day he made the only mistake he ever made filling a prescription. He said, 'that's it, when I start making mistakes, I'm done.' And he quit."
Roger attended James Lick High School, where he was a golf teammate of another future PGA Tour player, Forest Fezler. Maltbie then attended San Jose City College and San Jose State College before turning pro.
While in college Maltbie won the 1971 Northern California Championship and the 1972 California State Amateur Championship.
In his rookie year on tour in 1975, Maltbie won back-to-back tournaments – the Ed McMahon-Jaycees Quad Cities Open in Illinois and the Pleasant Valley Classic in Sutton, Massachusetts.
It was after his Pleasant Valley victory that he famously left his $40,000 winner's check at a bar following a night of celebration.
In those younger days Maltbie was no stranger to the occasional adult beverage or two. "I liked having a good time, no question about that," he says.
In fact, a favorite watering hole in Los Gatos was one reason he moved from San Jose into a condominium off Lark Avenue in 1977.
"Mountain Charley's was here," he says with a laugh. "I figured I was driving back and forth all the time so I might as well live here."
It was at the Quad Cities event in July 1978 that Maltbie met Donna Davis, a tournament volunteer who was Ed McMahon's assistant for the week. One dinner led to another and they were married in November 1980. "We'll celebrate our 34th anniversary this year," he says.
Roger and Donna later bought a home in the Surrey Farms neighborhood of Los Gatos off Kennedy Road in 1987 and have lived there since.
They have two sons, Spencer, 27, an assistant baseball coach at Los Gatos High School, and Parker, 24, a student at Monterey Peninsula College.
A year after his breakout rookie season, Maltbie beat Hale Irwin in a three-hole playoff to win the 1976 Memorial Tournament in Ohio, but then endured a long dry spell.
Finally, in 1985 he won twice more, at the Westchester Classic in New York in June and the NEC World Series of Golf in Akron, Ohio two months later.
In 1988 as his career was winding down, Maltbie auditioned for NBC, but declined a job offer in order to continue playing golf. Then in 1990 the network asked Maltbie to help out at the Bob Hope tournament and that led to his fulltime role two years later.
"I figured it was time my mouth got me something besides a fat lip," says Maltbie. "But I'm just an infantryman out there in the trenches. I'm not up in the tower with Johnny Miller doing the analysis.
"I'm using my knowledge of the game to report on what the players are doing and seeing on the course, what their shot options are."
Maltbie has both played and reported alongside players of all talent levels over his long career, none more dominant than Tiger Woods. Asked what he sees ahead for Woods, who missed his first Masters tournament in April to recover from back surgery, he had a quick answer.
"Tiger has defeated everyone there is," says Maltbie, "but he will not beat Father Time. Father Time is undefeated and untied. Tiger's had all those knee problems and now his back, and he's 38 years old.
"He will recover because he's unbelievably fit, but he's looking at his golfing mortality now. It's an uphill battle from here."
Pebble Beach and Cypress Point remain his favorite courses.
"Golf is just better by the ocean," he says. "Augusta is a wonderful course, but it would be perfect if they just pulled the Pacific Ocean in off of Rae's Creek."
Pebble Beach was the place Roger witnessed one of the most amazing feats he can remember.
"I was participating in a charity event, and I was stationed at the tee box on the seventh hole, the famous short par 3 that sits on the edge of the bay," he recalls. "I would sign autographs and take pictures and then hit a ball with every group that came through.
"This group comes up and one of their caddies bets me he can throw a ball closer to the hole than I can hit one with a club. I look down to the hole, it's a hundred or so yards, and it seems like a really long way. So I tell the guy, 'OK, you're on.'
"Next thing I know he pulls out a golf ball, throws it down there and it holes out on the fly! We're all blown away, everyone is just stunned at this remarkable thing, and the caddie says, 'you know, that's the seventh time I've done that.' I hit my ball after that but it wasn't even close."
Maltbie never had a hole-in-one at Pebble Beach, but he's carded 13 aces in all, including four on the PGA Tour and one on the 15th hole at Cypress Point in a practice round with former 49ers owner Eddie DeBartolo.
These days, though, Roger doesn't hit many golf balls at all.
"I only get in about a dozen rounds a year," he says. "But it doesn't matter to me how I play. I could shoot 80 one day or 70 the next. I still love it. I've always loved it. I love everything about golf."
He also loves Los Gatos. After more than three decades living here, Maltbie can't think of anywhere else he'd rather be.
"Los Gatos has always fit my lifestyle," he says. "The weather is great. San Francisco is an hour away. Pebble Beach is an hour or so away. The beach is 30 minutes over the hill. Lake Tahoe is a few hours' drive. It really doesn't get any better."
Unless, of course, he could be home on Father's Day.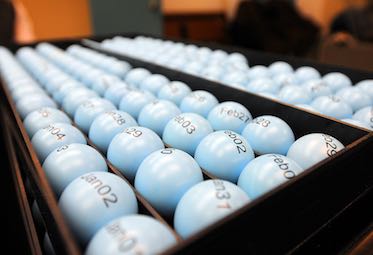 Previous
Next