About Duffy:
A prize-winning writer for the San Francisco Chronicle in the tumultuous 1970s, Duffy's coverage included the Patty Hearst kidnapping, the Zodiac and Zebra serial murders, the City Hall assassinations of Mayor George Moscone and Supervisor Harvey Milk. The newspaper submitted his reporting on the subsequent murder trial of their killer, former Supervisor Dan White, for Pulitzer Prize consideration.
---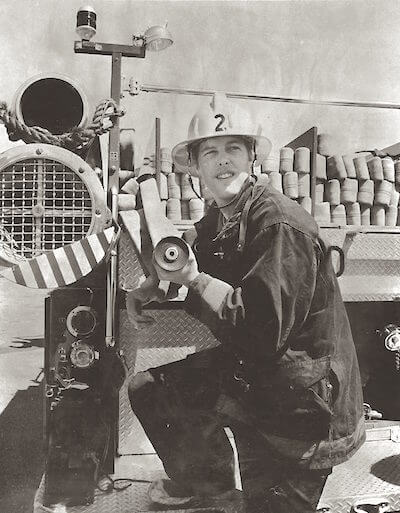 He won the prestigious International Association of Fire Fighters national newswriting award for his series as an embedded firefighter in San Francisco's busiest firehouse, "Riding with Engine Co. 21."
Veteran actor Adam Goldberg portrays Duffy in the 2007 film, "Zodiac."
Duffy subsequently served as vice president of public relations for the San Francisco Giants, where he founded Giants Magazine, the Giants Alumni Association and the Giants Community Fund, and won Major League Baseball's Marketing Excellence Award and other honors for team publications. He supervised 1000 media from around the globe during the 1989 World Series at Candlestick Park that was postponed by the 6.9-magnitude Loma Prieta earthquake. Once he even hit a home run into the Candlestick bleachers during a challenge game between the front office and sportswriters.
As a publicist, Duffy's strategies and guidance helped dozens of companies and individuals—in technology, e-commerce, consumer products, sports, public policy, leisure and hospitality—grow awareness and revenue. Among his clients: Joint Venture Silicon Valley, 3Com, Hewlett-Packard, the Tech Museum of Innovation, GolfWeb (now PGATour.com), the U.S. Olympic Committee and Willie Mays.
Duffy recently partnered with fellow San Francisco Chronicle journalist Kristin Delaplane on various oral history projects, creating personal, family and company histories.
Duffy has appeared extensively on the national media – in connection with his own work and on behalf of his clients and companies – including all major networks, the Travel Channel, the Discovery Channel and the History Channel.
Duffy has won the San Francisco Peninsula Press Club award for his blog on SFGate.com. He also founded Los Gatos Magazine and his writing has appeared in Rolling Stone, San Francisco Magazine, San Jose Magazine, Great Crimes of San Francisco and other publications.
Duffy earned his BA in Journalism from San Francisco State University. 
He was named after San Quentin Prison Warden Clinton T. Duffy. But that's another story.
---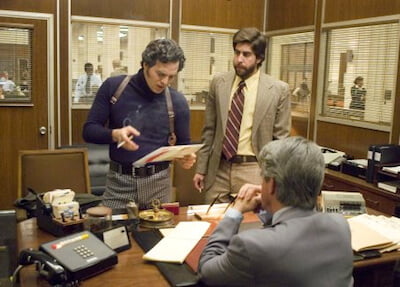 From the Paramount and Warner Bros. feature film "Zodiac"—San Francisco Chronicle reporter Duffy Jennings (right), as played by Adam Goldberg, with SFPD Homicide Inspector Dave Toschi, as played by Mark Ruffalo.