AUTHOR • JOURNALIST
BIOGRAPHER
CONSULTANT • SPEAKER
Duffy Jennings has compiled a distinguished career as a nationally recognized newspaper journalist, Major League Baseball publicist, magazine publisher, corporate communications executive and public relations consultant.
He remains available for corporate, personal, and custom freelance writing and editing projects.
---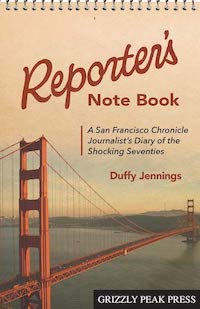 Duffy's memoir
A San Francisco Chronicle Journalist's
Diary of the Shocking Seventies
Available now.
Click HERE to order the book.
You're a great reporter. Stay cool and "write on."

— Smokey Robinson
I remember going out and making an announcement. I'll never forget Duffy Jennings, for some reason. I saw Duffy, and I don't know why I kept staring into those blue eyes of his and I couldn't speak for what seemed like a long time. I will never forget his eyes, the eyes of that group, the press and others. It was like the world stopped.

— Senator Dianne Feinstein, on the 1978 City Hall assassinations
The Dan White trial coverage has been precise, lucid and rich in extra insight…thanks for an arduous reporting job well done.

— William German, Managing Editor, San Francisco Chronicle