Praise for Reporter's Note Book
The Commonwealth Magazine
October/November 2019
Click thumbnails to enlarge.
In this insightful retrospective, Jennings' writing today is as fresh, compact and compelling as it was during his time as the Chron's go-to front-page scribe. Jennings tells his story with an unflinching eye buoyed by raw honesty and introspection. This nexus of fascinating biography and authentic journalism makes for a page-turning read that will not only move you, but will have you wishing for more when it ends.
R.K.
Duffy Jennings gives us an unsparing look at what it was like covering this crap show for the Chronicle while trying to maintain his mental balance as his coldly brilliant mother was slowly drinking herself to death with regular flourishes of suicide threats and genuine attempts.
J.J.C.
For me, a Northern California Boomer who grew up in the 60s & 70s, Jennings nailed what it felt like to live through those crazy times. I can't recommend this book enough!
R.G.S.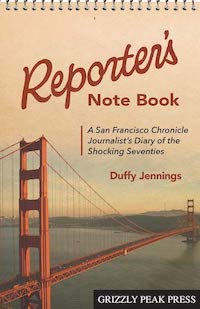 It is the book all journalists wish they could have written, but we don't have Duffy Jennings' talent. Pulitzer Prize for journalism. Why the heck not?
J.Y.
It's a triumph as a memoir and a brilliant account of his time at The San Francisco Chronicle back in the paper's heyday in the roaring 1970s.
K.L.
Duffy Jennings stands out as a gifted reporter who made the most of his unique perspective, skill, access, craftsmanship, and opportunities. His accounts are as vivid today as they were when he wrote them in the 70s, with the added bonus of today's context. A terrific read.
D.H.
Seeing the big stories of the decade through the eyes of someone who was in the middle of it all is a rare opportunity.
M.S.
"The ten days in November, 1978" left me so moved I had to stop and catch my breath….and wipe my eyes, too.
G.W.E.
It's a compelling read that kept me up late for a couple of nights because I couldn't put it down, and it has a heart-warming ending that left me smiling.
P.G.Z.