I left The Chronicle in late November 1980 to take my new job with the Giants, starting December 1 – exactly ten years to the day that first became a reporter. I left a few days later for the Major League Baseball Winter Meetings at the Anatole Hotel in Dallas, where I met many of my new co-workers and a number of other baseball front office people. Then it was back to San Francisco to learn more about the team and the business of baseball, and wait two more months for Spring Training to start.
By mid-February, I was anxious to get to Arizona. It would be my first trip there and my first experience in the Cactus League. I boarded my plane in San Francisco, eager, excited and a bit nervous.
---
Tuesday, March 3, 1981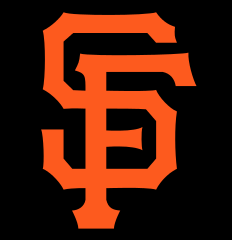 The plane's tires screeched on contact with the tarmac in Phoenix shortly after 1 p.m. I picked up my suitcase and walked out of the terminal. It was eighty degrees, probably double the temperature in San Francisco that morning. I had never been to Arizona. I liked it right away.
I rented a car and drove southeast, out through Tempe and Mesa, passing mile after mile of strip malls, Circle K convenience stores, golf courses and homes with Spanish tile rooftops and Saguaro cacti poking up through the otherwise barren front yards carpeted in beige rock. Gradually the city fell away to suburbs, then to the open desert.
Interstate 10 was a shimmering two-lane ribbon of dark asphalt lined on both sides by vast meadows of clay, scrub brush and red dirt. Afternoon gusts carried the fragrance of the creosote bush and sent tumbleweeds rolling across the desert like infield grounders.
After nearly an hour, I turned off the highway toward Casa Grande, a small town where Giants owner Horace Stoneham had built the team's training complex in 1962, four years after the club moved west from New York.
The Giants trained there for three weeks each spring before moving to Phoenix Stadium when the Cactus League schedule opened in early March.
Plunked in the middle of the Sonoran Desert between Phoenix and Tucson, Casa Grande was designed as a completely self-contained training facility, with four practice fields fanning out around a central observation tower, a 3000-seat stadium, its own seven-story Francisco Grande Hotel and adjacent motel, bat-shaped swimming pool, dining hall, 18-hole championship golf course – even an airstrip.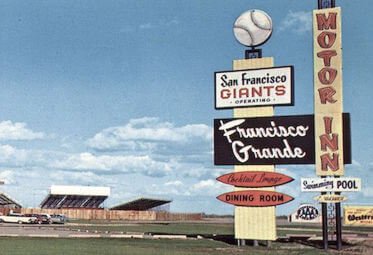 There was no highway in the region when Stoneham invested $2 million on the complex, but speculation was that the new interstate would cut right through Casa Grande, turning the town into a prosperous resort destination. Ultimately, I-10 ended up seven miles away, leaving Casa Grande as a forsaken pit stop.
"Welcome to Spring Training!" the team's travel director called out as I parked the car in front of the hotel. He walked right up to me, casually tossing a baseball in the air over and over in his right hand, the red seams spinning in all directions.
"Do you know what this is?" he asked.
"Sure," I replied. "It's a baseball."
"NO!" he said, pausing for emphasis as the ball smacked into his palm. "This," he said, gripping the ball tightly and shoving his fist forward, "… this is what we're all here for. This is what it's all about."
Corny, but I loved it.
I spent the first couple of days at Casa Grande acclimating to the camp routine, meeting players and coaches, talking with the reporters in camp and enduring my share of rookie ribbing and pranks from all quarters.
It was a somewhat historic spring for the ball club. Owner Bob Lurie had signed a new manager, Frank Robinson, making him the first black manager in the National League. And this was to be the team's last camp at Casa Grande before moving to Scottsdale permanently
Robinson's coaching staff included Jim Davenport, Jim Lefebvre, Don McMahon, John Van Ornum and Vern Benson. Joe Morgan had signed as a free agent, joining Darrell Evans, Johnnie LeMaster and Enos Cabell on the infield. Jack Clark, Larry Herndon and Billy North would be the Opening Day outfield, but Chili Davis and Jeffrey Leonard were in the wings. Milt May was the starting catcher. Vida Blue, Doyle Alexander, Fred Breining, Greg Minton and Gary Lavelle headed the pitching staff. All of them seemed larger than life to me.
Camp buzzed with the sounds and smells of baseball – spikes clicking on the pavement, balls cracking off bats and smacking into gloves, infield chatter, coaches shouting directions, fans calling out for autographs, the odor of pine tar, liniment, chewing tobacco, bubble gum.
And the grass, everywhere the intoxicating fragrance of fresh-mown grass.
Casa Grande may not have been close to any place else, but for me it was as close to heaven as anywhere I had ever been.
Previous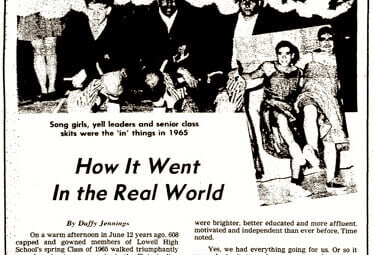 Next